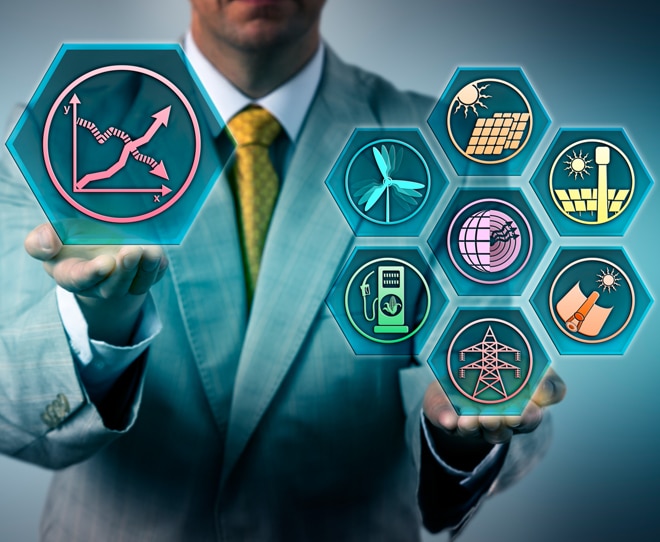 That's why it's good to have a business energy procurement plan in place. The good news is that you can get ahead of these issues now to avoid high energy costs in the future.
What Is an Energy Procurement Plan?
An energy procurement plan is a document that outlines how a business will buy electricity or natural gas from the utility company. Businesses need to have a business energy procurement plan because it helps them make informed decisions about how much energy they'll use, which can lead to cost savings.
A commercial energy procurement plan aims to help businesses decide when and how to make changes that will reduce their total energy usage. These plans take into account many factors, including:
· The cost of electricity or natural gas in different areas
· The environmental impact of each option for reducing usage
· How much money the will the business save by changing how much power it uses
An energy procurement plan should also include information about how much money you'll spend on new equipment or other changes needed to implement the plan.
The Different Types of Business Energy Supply Procurement Contracts
After deciding to create an energy procurement plan, you need to determine the type.
Variable-Rate Contracts
Variable-rate contracts are business energy supply contracts where the customer pays a rate that varies with the market price of gas or electricity.
The unit prices may vary over time, depending on the following:
· Changes in the wholesale price of gas or electricity
· National and international wholesale prices
· Domestic and external transmission charges
· Capacity charges and other factors
Variable-rate contracts can be appropriate for customers who want to manage risk and take advantage of any potential savings available through lower wholesale prices.
Fixed-Rate Contracts
Fixed-rate contracts are the most common type of business energy supply contract. They typically guarantee a fixed price for a period ranging from one year to several years.
The length of the fixed-rate contract depends on your business's needs and whether you're looking for a short or long-term solution. If your business is looking to lock in prices over the long term, a longer-term fixed-rate contract may be your best choice. On the other hand, if you're looking to keep costs stable for a few months or years, a shorter-term plan might suit your needs better.
Blended Contracts
Blended energy contracts are a type of business energy supply contract that blends the cost of renewable energy with the price of non-renewable energy. This type of contract is typically used for large businesses or those who want to reduce their carbon footprint.
These types of contracts often include both a fixed and variable pricing structure. The fixed portion is based on the price per kilowatt hour (kWh) you pay for electricity during certain months, while the variable portion is determined by how many kWhs you use in a given month.
Indexed Pricing
Indexed Pricing is a type of business energy supply contract that allows you to pay for your electricity based on an index rather than the actual cost of your electricity.
Indexed pricing is often used to stabilize the price of electricity, so you know exactly how much you will pay for it. This way, if there is a spike in the cost of electricity, you will be protected from sudden increases in your bill.
Understanding the Commercial Energy Procurement Process
Commercial energy procurement is the process of buying energy for your business.
Business energy procurement is a complex and multi-faceted process that involves many stakeholders and other players, including:
· The customer: The customer is the business looking to buy energy.
· The energy broker: They serve as go-betweens for energy producers and energy customers, matching customers with the best supplier.
· The energy supplier: The retail energy company that sets the energy rates and contract terms.
· The utility company: Distributes energy to customers, service outages, and attends to emergencies. Some utility companies purchase electricity from independent power producers or third-party vendors, while others generate their own electricity.
The process involves evaluating the costs and benefits of various options, including on-site generation, power purchase agreements, utility green tariffs, and more. It also involves determining how to value the risk associated with these options.
The steps in a commercial energy procurement project include the following:
· Determine your business objectives and constraints.
· Evaluate procurement options based on costs, risks, environmental benefits, and other factors (e.g., security).
· Select an option that best meets your objectives within the constraints of available options.
When you purchase power from an energy supplier, you're buying the right to use that power for a set period. The price you pay for that power will depend on how much and when you use it.
You can choose from numerous suppliers and contracts, using a competitive bidding process to find the best energy prices and rates deal.
The Benefits of Working with Energy Procurement Companies
Working with energy procurement companies offers numerous benefits for your business, including the following:
Improves Load Forecasting
Energy procurement companies can help you gain access to the most up-to-date data on your facility's power usage. This way, you can improve your load forecasting and have more accurate information about how much energy you'll need to produce.
Help You Take Back Control From Energy Providers
When you work with a business energy procurement company, they'll help you find the best deals on energy. They'll also negotiate with your current provider to get them to lower their rates as part of their energy procurement services, helping you save money on your monthly bills.
By doing this, you'll be able to save money and still have access to electricity without worrying about whether you will have power for your business operations.
Expands Your Energy Procurement Options
Another benefit is that they have access to an extensive network of suppliers, so they can help you find the best deal for your needs.
They can also help you understand how different strategies will impact the cost of your energy usage when you get your supply from a deregulated energy market (where the market determines energy prices) or a regulated energy market (where government entities set energy prices).
Reduce Your Overall Business Energy Costs
Working with energy procurement companies can help reduce your business's energy costs. Energy procurement companies can offer their clients great deals on electricity, gas, and water supply. So when you work with an energy procurement company, you'll be able to save money on your bill each month.
Contact Navigate Power: Experienced Energy Consultants in Chicago
We know that navigating the complex world of business energy procurement can be daunting. But we're here to help!
At Navigate Power, we're your experienced energy consultants in Chicago. Our team can help you rethink your energy purchasing strategy and explore better alternatives. We'll work with you to find an energy solution that's right for your business—no matter what kind of company or industry you're in.
We offer a free consultation to help you learn more about our services and how they can benefit your business. Contact us at (888) 601-1789 for a free consultation.