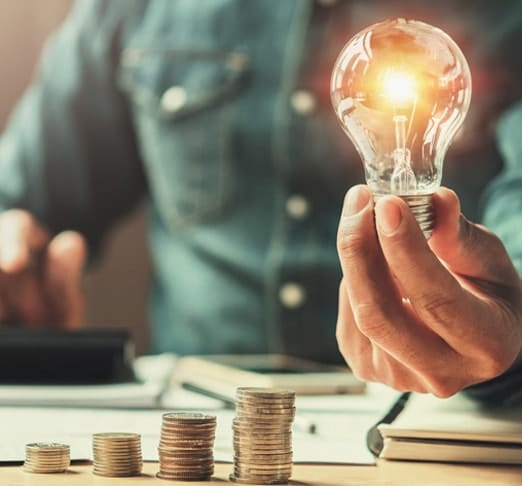 Navigate Power is one of Chicago's leading energy consulting companies. We specialize in helping businesses of all sizes and industries diminish their energy costs so they can save money while reducing their carbon footprint. Contact Navigate Power for professional energy consultants in Chicago if you want to lower your business's energy payments and save thousands of dollars annually.
What Are Energy Saving Consultants?
Energy-saving consultants, also known as business energy consultants and energy conservation consultants, are professional energy advisors that help businesses save money by lowering their energy payments. They assess your business's power consumption and find innovative ways to reduce energy costs without adversely affecting your company's productivity.
Energy-saving consultants develop custom strategies to diminish your company's power use, payments, and carbon footprint, allowing you to save money while protecting the environment.
Business energy consultants perform numerous tasks to save your company money on energy payments. These tasks include but aren't limited to:
Evaluate energy providers
Compare rates
Assess a company's energy consumption
Develop tailored solutions to reduce energy payments
Find environmentally friendly energy alternatives
Help business owners find affordable and green energy providers
Hiring an energy-saving consultant is one of the best ways to reduce your company's energy bills while looking out for the environment.
Benefits of Professional Energy Consultants in Chicago
Energy industry advisors provide numerous benefits to businesses, no matter their industry. With more states implementing energy restrictions, now is the perfect time to hire professional energy-saving consultants. Below are some prevalent benefits power consultants offer.
They Bring Expertise to the Table
Energy-saving consultants specialize in developing efficient energy-saving strategies that lower energy usage while maintaining optimal commercial operations. They thoroughly understand the energy industry and help implement effective solutions to reduce costs. Power consultants also examine rival companies' energy consumption and payments to see if your business is on par with the industry.
Native Power's professional energy savings consultants have vast experience in the field and can help you find new ways to save energy that would otherwise go unnoticed. They teach you environmentally friendly energy alternatives that help you save money while enhancing your overall business.
In-depth Knowledge of the Changing Trends
Professional power consultants keep up with the ever-changing energy industry and stay informed on innovative energy technologies and savings practices. They understand state restrictions and help you implement effective policies that help your business save money while staying within the state's guidelines. If energy policies change within your state, your power consultant will alert you and find an efficient way to follow regulations while maximizing your company's performance.
Can Always Rely on Their Fresh Perspectives
The energy-saving consultants at Navigate Power are experts in their field and thoroughly understand the industry. They offer fresh perspectives to reduce energy costs and consumption that keep businesses ahead of the competition. They'll teach you effective and innovative approaches to energy savings specifically designed for your industry.
Professional power consultants receive extensive training to ensure they know the best energy-saving approaches for numerous industries. They help companies evolve with new energy restrictions or technology and find creative ways to reduce consumption while keeping your company at its highest efficiency level.
Get Access to Demand Response Programs
Demand response programs reward businesses for reducing their energy consumption when demand increases (usually during emergencies and severe weather conditions).
An energy-saving consultant will help you enroll in these programs and ensure you stay within the requirements. Once your company enlists, these programs will pay you for reducing your energy consumption even if there isn't a high demand within the city or state. It's a fantastic way to increase revenue while saving on costly energy bills.
Your energy-saving consultant will evaluate each demand response program and determine which works best for your company and industry. They keep you informed and teach you how to get the most from these programs, improving your overall business.
You Can Always Demand Personalized Services
Professional power consultants develop custom energy-saving solutions specifically designed for your business and industry. They evaluate your company's needs and create policies that improve your business while lowering energy consumption, significantly reducing your monthly payments.
The power consultants at Navigate Energy understand every industry is different and require different energy-saving approaches. They have vast experience with numerous industries and will help your business find a solution that correlates with your company's field. Our energy consultants in Chicago listen to your wants and needs and develop tailored policies to help you save energy.
Generate Valuable Results for Your Energy Needs
Energy-saving consultants understand all the ins and outs of the energy industry and provide efficient results to help your business thrive while saving energy. They stay up to date with energy policies and technology and help your business utilize them to its advantage.
Experienced consultants will solve energy issues unique to your industry, ensure you aren't overpaying on your utility bills, teach you about effective energy-saving practices, and more.
Energy-saving consultants provide high-quality results that will help your company save money while reducing its carbon footprint.
Additional Read: What to Consider Before Paying Your Utility Bill
You Focus on Your Business; Let Them Handle the Rest
Business owners are often busy running their companies and don't have much time to focus on energy savings. Many don't realize how much energy they waste or how to reduce their utility bills effectively. A professional energy-saving consultant allows company leaders to focus on improving their business by handling their energy issues for them.
Energy-saving consultants manage your company's energy usage and find more affordable and environmentally friendly ways to power your company. This allows you to focus on improving your business's productivity and organization, helping your company reach new heights without wasting energy.
Additional Read: Understanding The Basics Of Electricity Generation & How To Purchase It For Your Business
Contact Navigate Power for Experienced Energy Consultants in Chicago
If you need experienced energy-saving consultants in Chicago, contact Navigate Power. We will reduce your company's energy costs and find eco-friendly alternatives to power without hindering your business's performance. Our energy consultants have extensive experience with nearly every industry, giving them the expertise to manage all your commercial energy needs.
Reducing your energy bills while implementing green power policies to help your company thrive is our top priority, and we hope you choose us for your company's energy needs.
Contact Navigate Power at (888) 601-1789 and schedule an energy efficiency consultation with our team today!